Sustainability Challenge 2015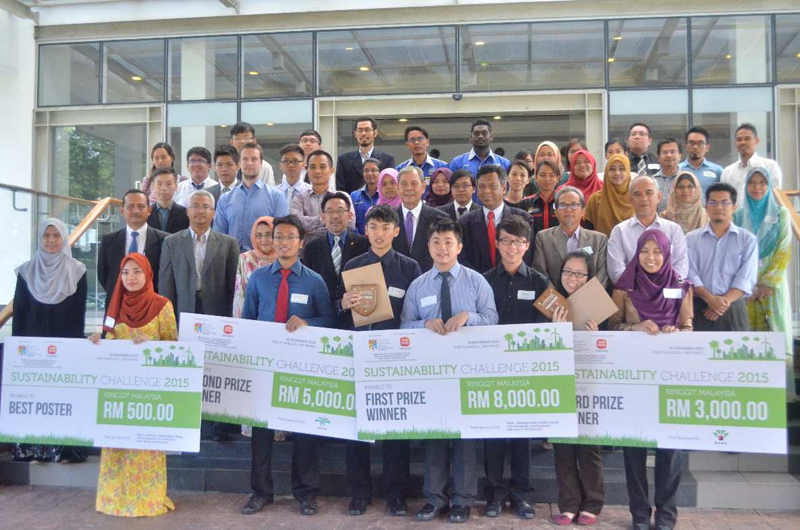 The Sustainability Challenge 2015 is co-organized by Universiti Kebangsaan Malaysia (UKM) - Yayasan Sime Darby (YSD) Chair for Sustainable Development: Zero Waste Technology with the objective of exploring and developing innovative ideas on sustainability of the palm oil industry. This competition is aimed for providing an excellent opportunity for participants to present their ideas on sustainability to the industry practitioners.
The objectives of the competition are:
• To explore and develop innovative ideas on sustainability of the palm oil industry among university students.
• To provide a platform for initiatives on palm oil sustainability.
• To promote UKM-YSD Chair for Sustainable Development: Zero Waste Technology and CESPRO at national and regional level.
For the year of 2015, there are 205 teams from 21 public and private universities in Malaysia who had participated in this competition and the top 10 finalists were short-listed based on their salient and innovative ideas of promoting sustainability for the palm oil industry. The champion of Sustainability Challenge
2015 was identified among the top 10 finalists based on the qualified panels' evaluation of team presentation and response to queries and concerns raised by the panels.
School of Mechanical Engineering was represented by Mr. Kaw Meng Chung and Mr. Teh Wei Huai who formed as 1 team in this competition and the team was supervised by Dr Mohamad Yusof Idroas. The team managed to win the first prize and was awarded RM 8000.00 cash. The innovative idea which had been explored and presented by the team relating to the Waste Heat Recovery using Modified Stirling Engine. The concept utilizes liquids with higher thermodynamic and thermo- physical properties compared to ideal gasses in heat engines in recovering low quality (below 230°C) waste heat in palm oil mills. This low boiling point liquid heat engine works based on the change of volume of liquid during vaporization and condensation instead of the thermal expansion of gasses in conventional Stirling engine. The low quality waste heat recovery in the palm oil mill are from the steam exhaust of steriliser (100°C-150°C) and from palm o il mill effluent (POME) (85°C-
90°C) before it enters the cooling pond or other co oling processes to prepare it for
anaerobic digestion.
The team would like to take this opportunity to thank the Dean of School of Mechanical Engineering, Professor Zaidi Mohd Ripin who had given a full support morally and financially to the team throughout the course of this competition. Also, the team would like to extend their gratitude to the supervisor, Dr Mohamad Yusof Idroas and panels of lecturers during the pre-session of presentation (Dr Khairuddin Mohamed, Dr Chin Jeng Feng and Dr Khaled Al'Attab) who had advised the team a lot on both technical and financial aspects of the conceptual idea.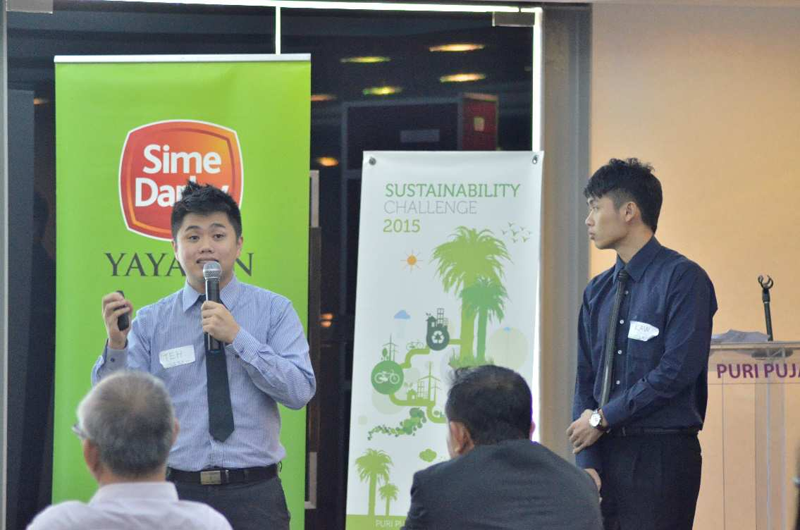 Teh (left) and Kaw (right) presenting their ideas to the panel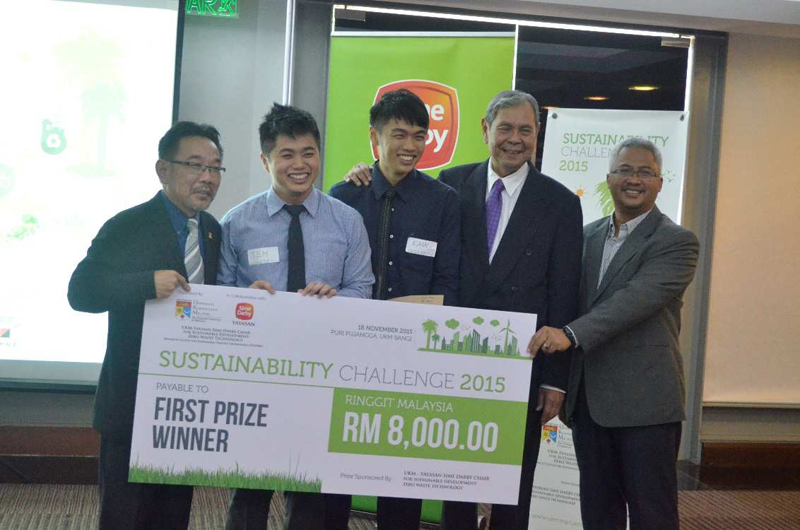 Prize giving ceremony.
From left: Prof. Dr. Imran Ho Abdullah (Timbalan Naib Canselor, Jaringan Industri & Masyarakat UKM), Teh Wei Huai, Kaw Meng Chung, Tan Sri Dato' Dr Wan Mohd Zahid Mohd Noordin ( Guest of Honour, Non-Independent Non-Executive Director of the Board of Sime Darby Berhad), Prof. Ir. Dr. Mohd Sobri Takriff (Organising Chairman of Sustainability Challenge 2015)