TheVibrationLab scores 2 wins at the Universiti Teknologi Petronas 2017 Innovation Challenge held at the UTP Chancellory, Tronoh, Perak from 7-9th of April. The team led by Prof Zaidi submitted two inventions, "Wireless hand tremor measurement system" which is a part of the PhD research work of Chan Ping Yi and assisted by undergraduate Goh Chong Teik and "A Smart Lower Rehabilitation System for Stroke Patients" a system developed by Tiew Yin Cheng, Ting Kin Choon (Sam) and Wei Boon as part of their undergraduate final year project and also for the Innovate Competition.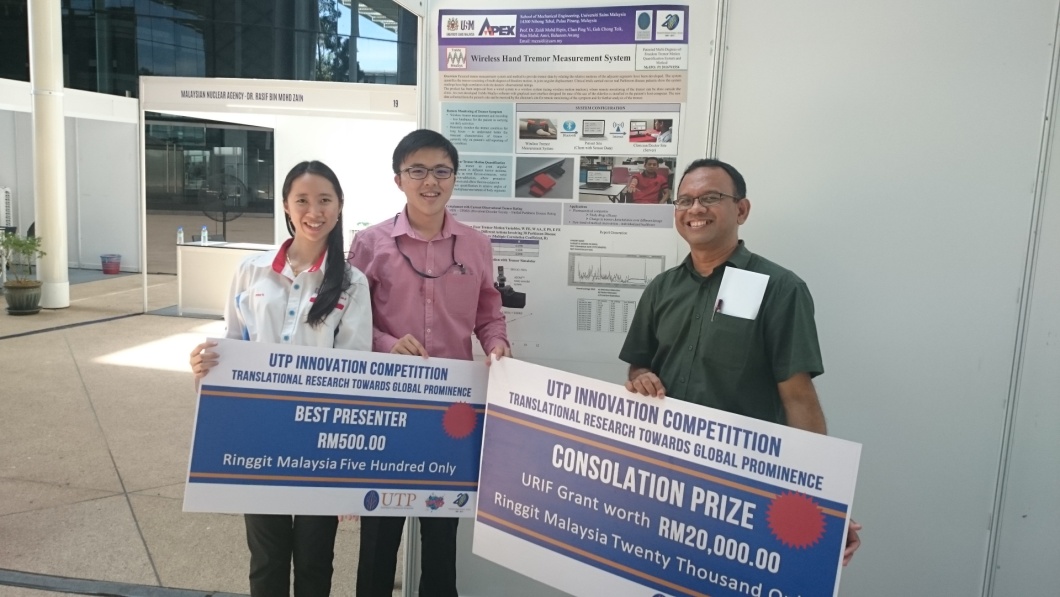 The winning entry "Wireless Hand Tremor Measurement System"


Satu Bengkel "blue Ocean Strategy (BOS)" telah diadakan pada 26 dan 27 Oktober 2016 bertempat di Bilik Seminar Pusat Pengajian Kej. Mekanik. Bengkel ini telah dijayakan bersama moderator jemputan Profesor Kehormat Datuk Dr Ahmad Yusoff Hassan yang mempunyai pengalaman luas dalam mengupas teknik 'BOS'. Didalam bengkel yang berlangsung selama 2 hari ini semua kakitangan pusat pengajian terdiri daripada kakitangan Akademik dan sokongan terlibat secara langsung dalam menentukan hala tuju Pusat Pengajian pada masa hadapan.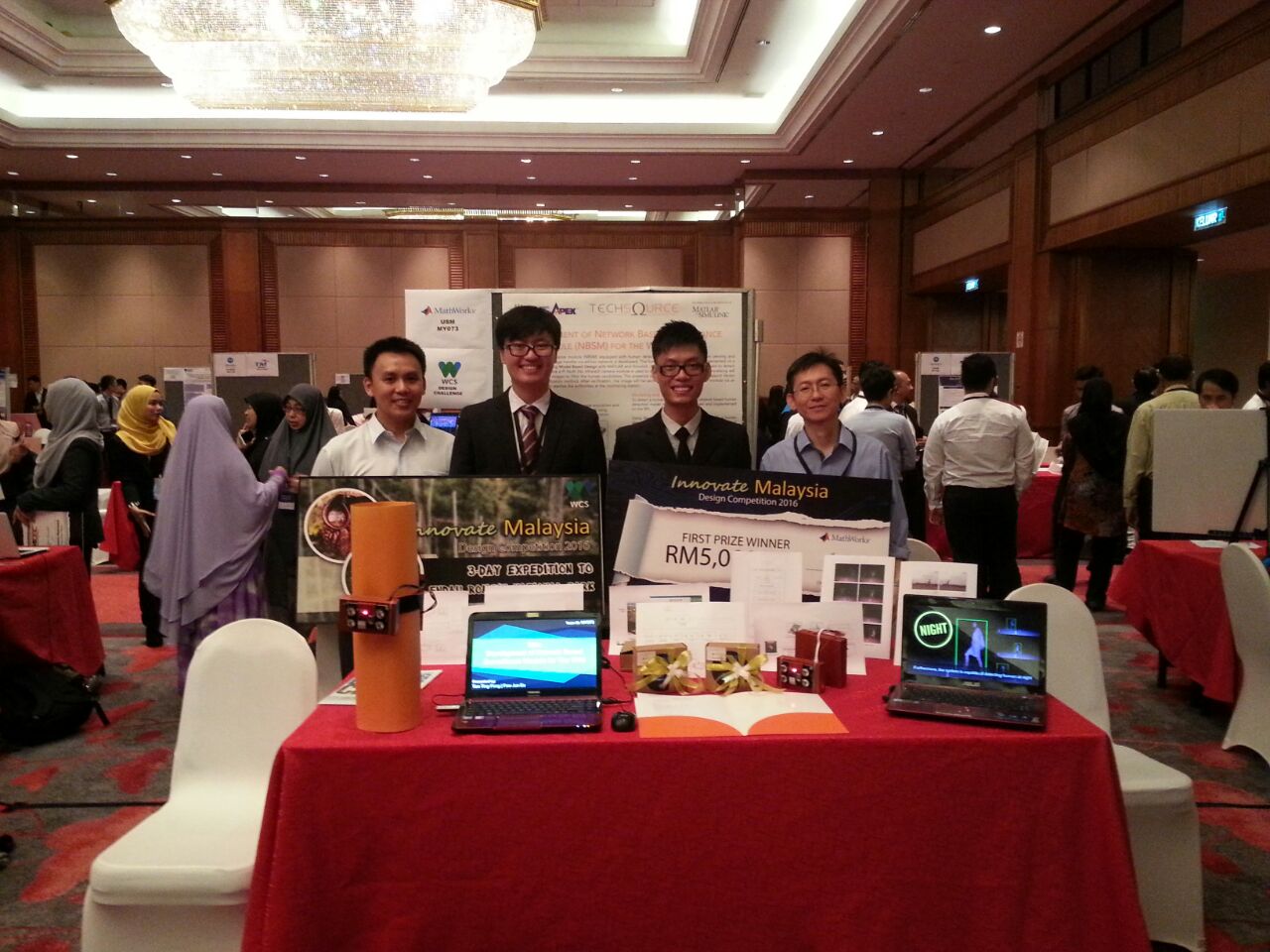 From left: Ir. Dr. Yen Kim Sam, Fow Jun Ee, Tan Ting Feng, Dr. Teoh Soo Siang
IMDC is a multi-discipline engineering design competition open to all final year undergraduate engineering or computer science students in Malaysia with the goal to promote innovative culture in engineering design work, tackle real-world problems with practical engineering solutions, and churn out brightest talents for product development, further research, and commercialization.
More than 400 teams participation from 29 public and private institutions of higher education in Malaysia, and only the top 5 of each track enter the Grand Finale in Equatorial Hotel for conference and industry showcase. USM students had shown great results, out of 8 teams of USM students in the finals, 2 teams were represented by students from School of Mechanical Engineering.
A project title of "Development of Network Based Surveillance Module (NBSM) for the Wild" is the Champion of MathWorks track in IMDC 2016. This project is a combined effort of both School of Mechanical Engineering (PPKM) and School of Electrical & Electronic Engineering (PPKEE). The team consists of Fow Jun Ee from PPKM and Tan Ting Feng from PPKEE, under the supervision of Ir. Dr. Yen Kin Sam from PPKM and Dr. Teoh Soo Siang from PPKEE (Figure 1). The network based surveillance module developed is able to detect human (poachers) presence in both daytime and at night condition with 100% positive detection and able to transmit near instantaneous alerts wirelessly to the authorities. This project also won favour in the sight of judges and has been awarded the winner of the Wildlife Conservation Society (WCS) Malaysia Design Challenge. Design information: Development of Network based Surveillance Module (NBSM) for the wild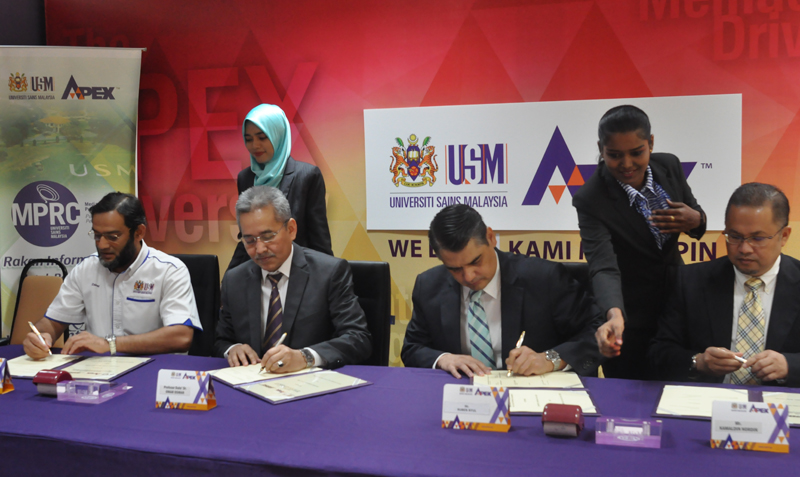 USM, PULAU PINANG, 8 Mac 2016 - Universiti Sains Malaysia (USM) hari ini menandatangani Memorandum Perjanjian (MoA) dengan Bose Systems Malaysia Sdn. Bhd. untuk meneruskan latihan jangka pendek Bose Lean Enterprise terutamanya kepada pelajar ijazah pertama yang pernah dilaksanakan sebelum ini.
Naib Canselor Profesor Dato' Dr. Omar Osman menandatanganinya bagi pihak USM manakala Bose System Malaysia Sdn. Bhd. diwakili oleh Pengarah Urusannya Ruben Nyul.
BOSE mula ditubuhkan pada 1964 oleh profesor dari Massachusetts Institute of Technology, Amerika Syarikat iaitu Profesor Dr. Amar Bose. Antara prinsip BOSE adalah untuk mengekalkan komitmen yang tinggi untuk penyelidikan.